A Very Thankful Time of Year at the Joe Andruzzi Foundation…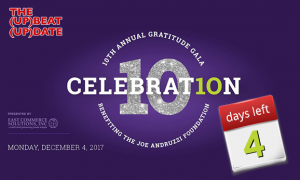 Another November is about to wrap-up, and it certainly was a month that gave us plenty to be thankful for!
The Foundation has been hard at work putting the finishing touches on our milestone 10th Annual Gratitude Gala, and we can't wait to celebrate with you all on Monday! (Can't make it to the Gala but still want to support it? Make a donation today at: http://bit.ly/2y9eT91.) We've also had the chance to check in with some inspiring patient recipients, tally our Goal Line Giving points, and take a bunch of selfies (more on that below).
So, before we completely close the door on the month that was, let's recap everything that kept the Joe Andruzzi Foundation smiling in November!
All the best,
Jen and Joe Andruzzi
---
JAF By The Numbers
4
DAYS TO THE 10TH ANNUAL GRATITUDE GALA
172
DAYS TO JAF'S 10TH ANNIVERSARY
---
Bob's Discount Furniture DOUBLES JAF's #GivingTuesday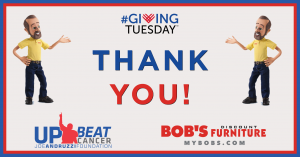 Because of our amazing supporters and Bob's Discount Furniture's generous match, the Joe Andruzzi Foundation raised over $62,000 for New England cancer patients through this week's #GivingTuesday campaign!
For this year's annual day of giving, we pulled together JAF's staff and some former patient recipients to film "Thank You Selfies" that we sent out across our social media channels – all to let our generous donors know how much their contributions mean to our Foundation.
We also want to send a big thank you to some special friends who sent shout-out selfie videos Tuesday to help us acknowledge donors and spread the word – like current New England Patriots Nate Solder, David Andrews, and Joe Thuney; WBZ's Lisa Hughes and David Wade; and former Patriots Scott Zolak and Matt Chatham.
It was an amazing day all around, and we could not have done it without Bob's Discount Furniture's commitment to our mission and the incredible donors who pledged gifts throughout the day. Thank you!
---
Solder to Sport Special Cleats Sunday to Support JAF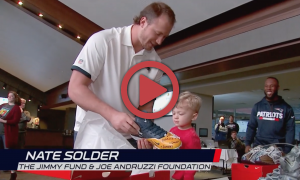 As part of the NFL's second annual "My Cause, My Cleats" initiative, which allows players to don a pair of customized cleats in honor of a charitable cause, Patriots tackle Nate Solder will be wearing cleats to support the Joe Andruzzi Foundation and the Jimmy Fund Clinic this Sunday – two causes close to his heart.
Solder's cleats feature a sketch of his two-year-old son Hudson, who was diagnosed with a form of kidney cancer called bilateral Wilms tumors in October 2015. After a year of chemotherapy, doctors said that he no longer required treatment, just monitoring. But the tumors started growing again in September, which meant Hudson would be returning to Brookline's Dana Farber's Jimmy Fund Clinic for treatments. "I want to show some love to families going through a tough time because I have a child going through the same thing," Solder says.
Click the image above for a video of the Patriots "My Cause, My Cleats" unveiling at Gillette Stadium this week.
To make a donation to the Joe Andruzzi Foundation in support of Hudson's battle, visit www.toughlikemydad.com.
---
Give the Gift of Happiness this Holiday Season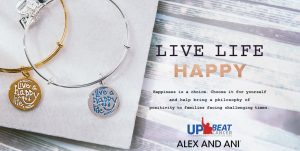 Attention Shoppers!
Give the gift of happiness this holiday season with ALEX AND ANI's "Live A Happy Life" charm! 20% of each bangle goes towards supporting JAF cancer patients & their families. Don't be a last-minute shopper – these bangles are known to sell out this time of year, so get ahead of the game and score yours today!
---
 Speaking of Holiday Shopping…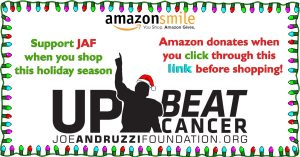 Buying holiday gifts on Amazon this year?
Be sure to bookmark and click-through this link [bit.ly/jafamazonsmile] before you shop and Amazon Smiles will donate a portion of sales from your order to the Joe Andruzzi Foundation!
---
Checking-In with the Goal Line Giving Scoreboard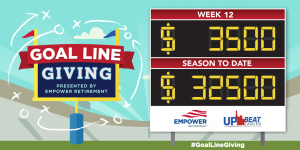 The Joe Andruzzi Foundation is teaming up with Empower Retirement all football season long to tackle cancer's impact through our Goal Line Giving campaign!
For every point New England scores during the 2017 regular season, Empower Retirement will donate $100 towards the Joe Andruzzi Foundation's mission of providing financial assistance to cancer patients and families – helping them focus on recovery, not bills.
Through Week 12 of the NFL season, New England has scored 325 points – good for third in the league! That means Empower Retirement has donated $32,500 to support JAF cancer patients in need, like Melissa and Scott Hathaway.
---
JAF Patient Spotlight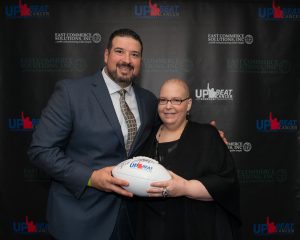 No one is ready for cancer, but Brenda Sumner was particularly surprised.
Doctors ran a CT scan and sent her for a colonoscopy. They hoped it was colitis, but it wasn't. And just like that, they were talking about how long she had to live. "We were told at the beginning it could be weeks or months," Brenda told us.
That was more than two years ago. She was 44 years old, with 9-year-old twin girls. "You have to keep your sense of humor," she says. "You can't walk around being depressed all the time.
"Read more of Brenda's inspiring story in the latest JAF Patient Profile.