Victoria Clappi received a last-minute bib for the 2019 Falmouth Road Race. In hindsight, it was probably serendipitous.
Victoria's father was diagnosed with lymphoma earlier that year, and as she was running along the course, she noticed many 'Team JAF' bibs and singlets scattered along the route. When Victoria reached the finish line, she found a collection of Joe Andruzzi Foundation runners and decided to ask for more information about the organization. When she learned that JAF provides financial assistance to patients living with cancer throughout New England, she thought of her father, and wanted to be a part of JAF's mission.
In 2020, Victoria, a Middleboro, Mass. resident, virtually ran the Boston Marathon for Team JAF while her father was still undergoing treatment. It was the first time she ran a race for a charity. She was pleasantly surprised when she received a phone call from Joe, thanking her for running the Marathon and being a part of Team JAF.
"It's a community. As a runner, I feel like they're super supportive with everything. They really want you to do a good job. It just kind of all made sense. It sounds silly, but it seems like I was meant to be part of the organization," Victoria said.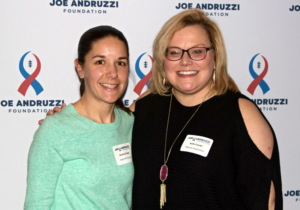 Victoria is running at Falmouth this year, not just in her father's honor as he still battles cancer, but for her friend, Terri, who is battling breast cancer for the second time. Terri is also a past JAF grant recipient.
"I will never forget the peace of mind the grant provided Terri during her battle with cancer," Victoria said. "Being involved in a previous Team JAF event, I was able to meet more grant recipients and see all the benefits and assistance JAF can provide. I want to continue to be able to help raise funds and awareness of JAF's mission to provide assistance for those fighting cancer in order to ease their financial burden during their journey. This is especially important after the hardships felt by all during the past year."
As of early August, Victoria and the rest of the Team JAF Falmouth runners have raised more than $31,000 for patients living with cancer throughout New England. That last-minute chance Victoria got in 2019 has now turned into hundreds of second chances for help, hope, and a reason to smile for patients battling cancer.
"You really feel they like care about people," Victoria said of JAF. "I feel like it's my way of giving back.
To support Victoria and other Team JAF 2021 Falmouth Road Race runners' fundraising campaigns, click here!