Between September 20-21, 2019, sixteen Foundation supporters partook in two new athletic fundraising events for Team JAF, collectively raising $13,000+ over a 24-hour stretch.
It all started on Friday, September 20, at NRG LAB Mansfield for the inaugural Team JAF Spin-A-thon, where 11 fundraisers saddled up for a night of cycling, fun, and music. The team – made up of first-time "spinners", JAF Athletes, family members of JAF patient recipients (like Greg Kundicz's mother, Laurie), and Team JAF alumni – wore "glow attire" for the event, including necklaces, bracelets and even light-up earrings.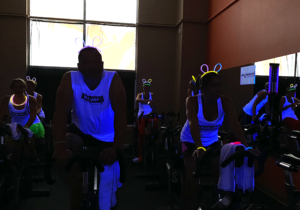 By the time the pedals slowed and sweat dried, more than $8,000 had been raised in support of the New England cancer patients JAF serves!
We owe a shout out to our amazing Team JAF athletes for training and fundraising in support of the Foundation: Deana DeSilva, Rich DeSilva, Annalyn Dury, Krista Easterly, Mark England, Sue England, David Kelliher, Laurie Kundicz, Margaret Lupinski, Jill Rilly, and Michelle Tsimtsos.
On behalf of everyone at the Foundation, we also want to thank all the sponsors and supporters who helped us bring the event to life – NRG Lab and it's amazing team, including Luther White, Anne Fontaine, and, of course, our instructors, Cori Newcomb and Stacey Rivoria; Wegmans of Westwood; and DJ Gary Titus for providing the tunes and motivation to our cyclers as they pushed their bodies to the limit!
The very next morning, six Team JAF athletes – including a Spin-A-Thon participant from the night before (shout out Mark England!) – took to the streets of Hingham, Cohasset, Scituate, and Norwell, Massachusetts, to raise funds for JAF through the McCourt Foundation's annual Tour de South Shore.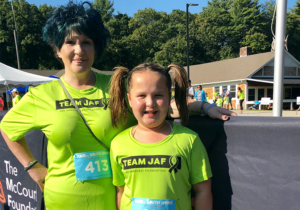 Team JAF was well represented at the event, fielding rockstar participants in the 5K Walk/Run – including mother-daughter duo Sasha Horton and Maggie Horton (a JAF patient recipient), Kirby Viera, and Dr. Dipak Panigrahy (a cancer researcher), as well as the 25- (Sandy Clinton) and 50-mile (Mark England) bike rides – collectively raising more than $5,000 along the way!
We owe a huge thanks to The McCourt Foundation for having Team JAF as one of its 2019 Charity Partners, as well as all of the race staff and volunteers who had a hand in making the event such a special day for everyone involved.
If you didn't have a chance to support a Team JAF Athlete's Spin-a-Thon or Tour de South Shore fundraising campaign and still wish to do so, consider making a contribution today! Donations to each campaign are being accepted through Friday, October 11 – Spin-A-Thon athletes here and Tour de South Shore athletes here.
And keep an eye out for details on how you can become a Team JAF Athlete at our next event!