For the 10th consecutive year, the Joe Andruzzi Foundation's Team JAF athletes were thrilled to participate in the ASICS Falmouth Road Race on Sunday, August 15. Many of our athletes returned to the historic, seven-mile course to run the in-person race this year after our 2020 team participated virtually due to the COVID-19 pandemic.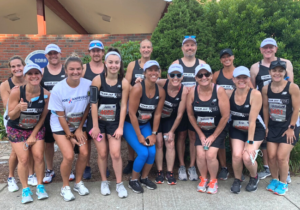 This year, 25 athletes from Massachusetts and Connecticut participated – 17 ran the in-person race and eight participated virtually. Together, they raised nearly $45,000! Since 2012, Team JAF's Falmouth athletes have raised just over $900,000.
JAF would like to extend a heartfelt thank you to all our athletes and their supporters who donated their time, money, and training efforts to ensure that patients don't have to choose between paying for treatment and paying household bills.
Two Friends, Their Bonds Strengthened by Cancer, to Run Falmouth Road Race for Team JAF
This summer, our athletes have dealt with many weather extremes, from heatwaves in June, to multiple days of downpours in July, and temperatures that felt as high as 100 degrees in the final days of training in August. Their dedication to the race and the JAF mission is inspiring.
An extra-special shoutout goes to our top five fundraisers. Thank you to Erica Parrell, Jim Diozzi, Jon Moussette, Mark Steinhoff, and Mike Nelson for going above and beyond the fundraising call of duty.
'It Seems Like I Was Meant to Be Part of the Organization:' A Falmouth Runner's Journey to Becoming a Team JAF Athlete
Team JAF even produced its own inspirational story during the race. This year, a Team JAF athlete who planned to run the virtual race, but couldn't due to an injury, got a little help from her friends. Another special thank you goes to the members of Marina Proietti's gym community, who stepped up to run legs of the race for her when she couldn't. Check out when Team JAF became Team Marina over at our Instagram account.
View this post on Instagram
Click here to view Instagram Stories from the point of view of our athletes participating in Falmouth and at home.
The Foundation would also like to extend special thanks to New Balance for this year's singlets for our athletes and to the Falmouth Road Race's Numbers for Nonprofits program for once again accepting us to their incredible program.
Although we didn't hold our traditional post-race party in Falmouth this year, a thank you goes out to Evviva Trattoria in Wrentham and its staff, which hosted Team JAF in a celebratory dinner on Wednesday, August 18.
If you are still interested in making a contribution to Team JAF or an individual athlete, all fundraising pages will be accepting donations through September 29, 2021 on RaceRoster here. With your help, we hope to increase our total to $50,000!